Meet the Team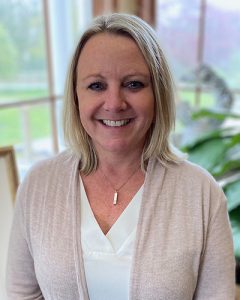 Karen Blake is an accomplished professional with over 20 years in the healthcare industry. As the Administrator of The Terraces Orleans retirement living center, she brings a wealth of knowledge and expertise to her role.
Karen graduated from Springfield College with a Bachelor's in therapeutic recreation, she is a certified therapeutic recreation specialist. She also holds a master's degree in business administration with a concentration in health care management from UMASS Dartmouth. Throughout her career, she has worked for several healthcare providers, including Kindred Healthcare at Eagle Pond, Next Step Healthcare, and Beacon Hospice.
As Administrator of The Terraces Orleans, Karen oversees all aspects of the center's operations, including resident care, staff management, and financial performance. She is committed to ensuring that every resident at The Terraces receives the highest quality of care in a warm and welcoming environment. She leads the building in Putting "Care" first in everything we do.
Karen is also actively involved in the community and a strong advocate for the rights and well-being of older adults. She is a longtime member of the Cape Cod Senior Resource Group, dedicated to improving the lives of seniors.
Karen is known for her compassionate approach to healthcare, unwavering dedication to her residents and staff, and ability to lead and inspire others. Her leadership and expertise make her a valuable asset to The Terraces Orleans and the senior living industry as a whole.
Karen lives in South Dennis with her husband and two sons. She enjoys #capelife, going to the beach, boating, and fishing for Stripe bass and Commercial Tuna fishing! An avid runner, she enjoys competing in local road races.
Mary McGuire was welcomed back to The Terraces as Director of Nursing, formerly the Assistant Director of Nursing for seven years. Mary is an experienced leader of our nursing team and a long-time member of the Terraces Orleans family.
She received her nursing degree from St Elizabeth's School of Nursing, earned her BS for Health Education from UMASS Boston, and a master's degree in Education from Cambridge College. Mary is a native Bostonian and started her career at Mass General Hospital in a surgical step-down unit as a new grad. She then moved on to the VA hospitals, working in both the Surgical ICU and Cardiothoracic ICU.
She moved with her family to Truro in 1995 after falling in love with their summer home, having been summer residents since the early 80s.
Once on Cape, Mary began working in the Critical Care Unit at Cape Cod Hospital and at the Cape Cod Artificial Kidney Center in Yarmouth.
She began working in LTC in 2005, joining The Terraces (which at that time was Orleans Convalescent and Retirement Center). Mary has worked with the geriatric population in LTC and Home Care since then. She kept her connection to The Terraces as a per diem nurse through the years, returning full-time in 2013 as Assistant Director of Nursing until 2020. Mary is delighted to be back as Director of Nursing now and says, "There is no place like the Terraces anywhere. We give excellent, individualized care to our residents. Our staff is second to none. There is no place like home: but the Terraces is the closest you can get. This is true for our residents and for me. I feel like I'm back home again."
Each summer from 1984 through 2007, Mary ran a fitness program called the Wellfleet Workout. She now does her Pilates classes where and when she can. She has three grown children here on the lower and outer cape. She absolutely loves having her two grandchildren grow up in this beautiful part of the cape…and close to their nana.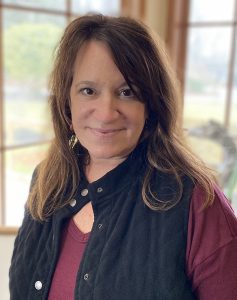 Amy is a CDC-Certified Infection Control Preventionist (ICP) who keeps her skills up to date and in accordance with the highest industry standards. She's a key part of our Care team and is focused on protecting our Residents and Staff especially during the COVID-19 pandemic.
Amy's nursing career started 10 years ago and has spanned skilled nursing, assisted living, Alzheimer's, long term care and sub-acute units. In these assignments, Amy strove to provide exceptional care, improve clients' quality of life, and collaborate with residents and families to design and deliver the best Plans of Care.
As a visiting nurse on Cape Cod specializing in patients residing in assisted living communities, Amy gained strong clinical skills working as part of a multi-disciplined team providing individualized care to homebound elderly. In this role, she helped her patients physically and mentally transition into their new homes while maintaining as much independence as possible.
Amy lives in Brewster and loves being a part of the lower Cape community. When the weather's nice, you'll find her on long walks with her dog in Nickerson State Park, visiting the beach, and swimming in Sheep Pond.